For the last couple of years I have been President of our little Playgroup and unless any more little people join our family, these will be my last few months! I wanted to do a little fundraiser on top of our show-bag & crafting efforts at the annual 'Shire on Show' here in Cranbrook, Western Australia.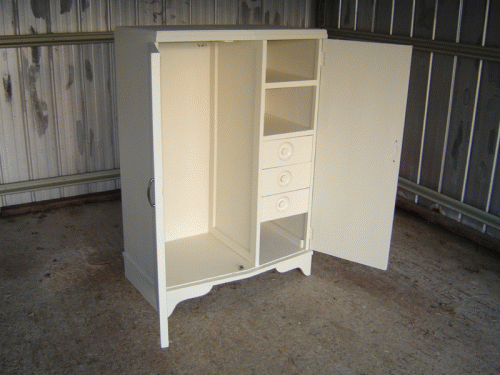 I took a plain little white mini wardrobe and thought it would be really fun dressed up for a little girl and offered for sale in the form of a silent auction. That way, Mum (or Dad, Grannies etc) could offer me what they would like to pay for it and the highest bid, wins.
Some inspiration...
My Painter in Residence wardrobe for Annie Sloan ;)
So I painted her inside and out with Henrietta and a custom mix pale green, and made simple curtains with a stunning ikat print. I added some knobs as hooks and decoration and offered her up for auction!
I had six very generous offers, but the highest bidder and the winner was a lovely lady who only lives in the next town to us. She just happens to have a little bit of an obsession with Chalk Paint too, so we always have lots to talk about :)